It All Begins with a Goodbye…
Bombs have been falling for years on Homs, Syria, tearing the city to pieces and spreading death. So when her younger sister is added to the list of casualties, Nour can't take it anymore. She decides to leave for Europe, with hopes of a better life.
Her husband, Majd, can't come with her. He recently lost his father, too, but his mother and grandfather are still alive – if he goes, they won't be able to make it without him.
So together, Nour and Majd prepare her trip as well as possible. They study the maps, make a list of items she could use, gather their meager savings and buy two smartphones to keep in touch. They're both frightened and restless.
And one morning, Nour hops on a truck with her backpack on her shoulder. Before she leaves, Majd hugs her like never before, kisses her on the forehead and whisper a Syrian farewell saying:
"Bury me, my Love"
A Pixel Hunt, Figs & Arte game whose I'm the main writer.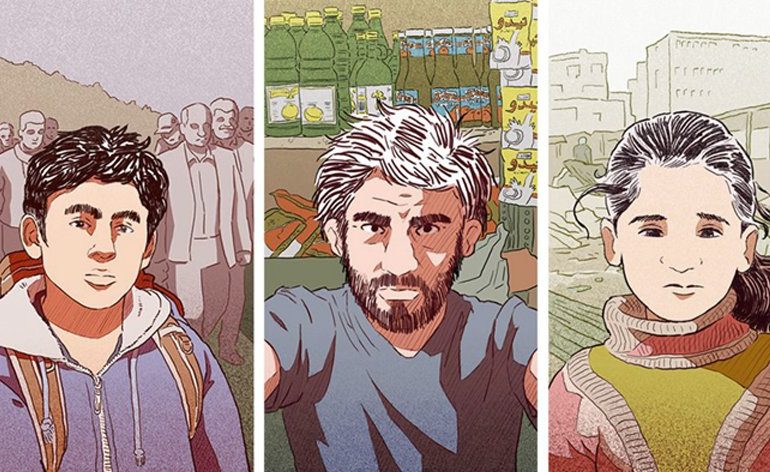 Split Screen Documentary :
Bury me my love won the Developper Choice Award at Indiecade EU 2017, the Best Meaningful Play Award at the IMGA and the first prize at the Google Play Indie Game Contest 2018

It was nominated at the GDC, Game Awards, BAFTAs and Webby Awards
They talked about it :
–Engadget (english)
–Polygon (english)
–VentureBeat (english)
–Kotaku (english)
–IndieGames (english)
–The Verge (english)
–Vice (english)
–Forbes (english)
–Telerama (french)
–Les Inrocks (french)
–Libération (french)
–Numérama (french)
–Gamekult (french)
–Merlanfrit (french)
–Android-MT (french)
–FranceInfo (french)
–Rfi (french)
–France Inter (french)
–Mademoizelle (french)
–Squeezie (french)
and many more…